Harga : RM100/pcs
if buy 10pcs - RM60/pcs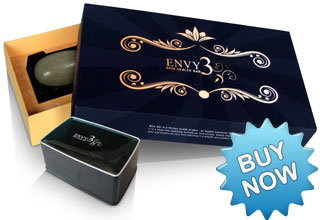 Moor Clay is a 100% natural therapy quality peat from deposits located in lower Austria. It is a natural potpourri of substances that can play an important part for the cell metabolism of the skin due to it contains high amount of humid acids and also rich in nutrients, vitamins, minerals, lipids, amino-acids, proteins and carbohydrates. Moor Beauty Bar is combination of natural herbal essences with organic mud clay. These active elements have undergone hi-tech extraction techniques to enable our skin undergo and achieving activation, cleansing and beautification benefits. It has been never processed chemically or thermally to preserve all of it's benefits as recommended by European therapy practice. The sensational moor facial bar infused with Hydration Micro Algae factor formulated and 100% imported from Canada.
Effects:
1. Cell rejuvenation.
2. Detoxification.
3. Firming, effectively shrinks and minimize pores.
4. Collagen regeneration.
5. Radiance revealing, whitening and lustrous skin.
6. Optimum hydration special for dry skin.
7. Significantly treats pimples, removing blackheads, lightens pigments, scars and recuperates scars.
For user:
1. For sensitive, delicate, big pores, dull skin and problematic skin (acne).
2. All age groups, all sexes.
3. Skin types (Dry/Oily & Combination skin).
4. Skin Health ~ It helps cure the deeper layers of your skin organ, improve skin disease.
5. Types of usage (shampoo, conditioner, remove white hair, after shave).